1. Open the below link for requesting Salesforce Developer Edition with Pardot.
2. Fill all details.
3. Follow the instructions provided in the email to set password and recovery.
4. Navigate to Pardot Setup Home under Setup.
5. Click Assign Admin.
6. Give Business Unit Name and Select you as Business Unit Admin. Click Save.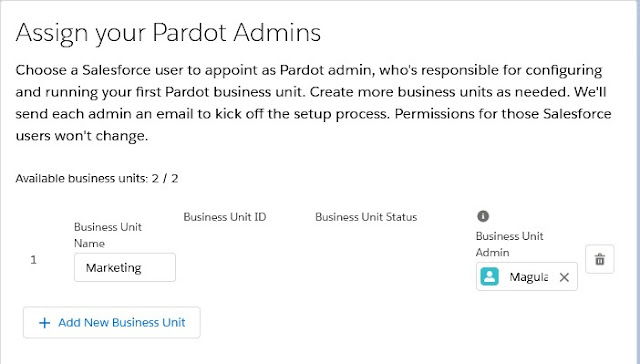 7. Check for emails. You will receive a confirmation for adding you as Pardot Admin.
8.  Again click Assign Admin. Make sure Business Unit Status is Enabled.
9. Open the below link for Package Installation.
10. Install the Package in the Org which you signed up. Kindly wait for the email confirmation for the successful package installation.
11. Open the Permission Set "CRM User". Assign yourself since you have added you as Pardot Admin in Step 6.
12. Set Field Level Security to the below field in both Contact and Lead Objects for B2BMA Integration User and System Administrator Profiles.
Field Label – Email Opt Out    
Field Name – HasOptedOutOfEmail
13. Enable "Enable Pardot in Your Salesforce Org" under Pardot Setup Home in Salesforce Setup.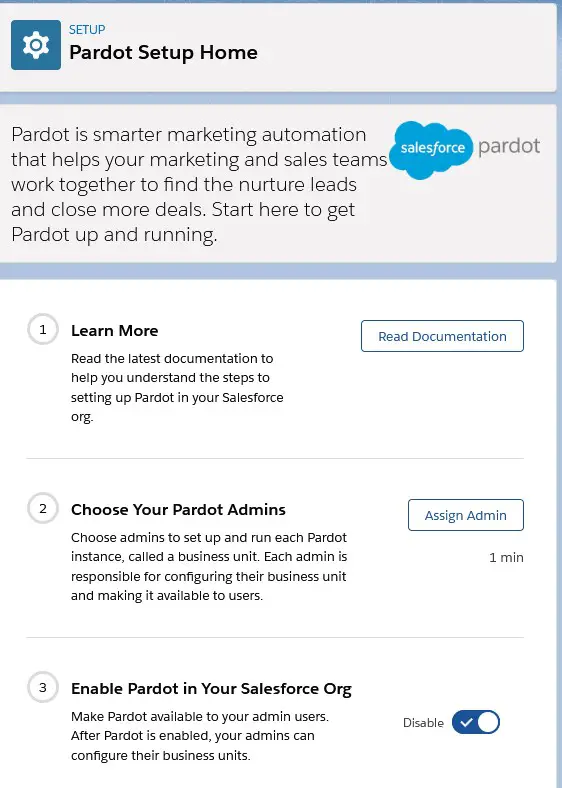 14. From App Launcher, open Pardot (B2B Marketing Automation) app.
15. Click Pardot Setting tab. Click Connectors.
16. Resume the Sync for Salesforce.com.
Additional Information: