Custom Report Type in Salesforce is used to create custom report type for related objects for reporting and it allows up to 4 level.
To create Custom Report Type, go to Setup –> Create –> Report Types.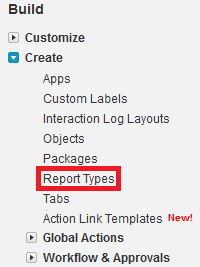 Notes:
1. Once the Custom Report Type is created, the Primary Object cannot be changed.
2. We can change the label name of the field to be displayed on the Report.
3. We can arrange the fields to be in order in fields pane in Report Builder.
4. We can select up to a maximum of 4 objects.
Cheers!!!